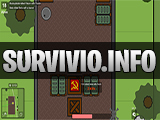 About Survivio.info
Surviv.io has gained immense popularity in the past few months. This has become a famous alternative for PlayerUnknown's Battlegrounds and Fortnite. If you are looking for a game that is both challenging and less demanding for resources. The servers of the game may contain 100 players at the same time. These players need to eliminate other players. Then, the last person will win the game and get points to his or her account.
Survivio.info was established sharing guide of foes.io game in 2018. Survivio.info aims to be the best information and entertainment website about surviv.io game. Our website has been sharing information about different subjects which are surviv.io guide, survivio tip and tricks, surviv.io wiki, surviv.io weapons,surviv.io private servers and so on. Players who have learned these information may have better knowledge of the game and better game tactics.
Official language of our website is English. In addition, our servers are located in Los Angeles – United States. This site has been using wordpress software system..
Survivio.info
For Players: contact@survivio.info
For Developers: admin@survivio.info