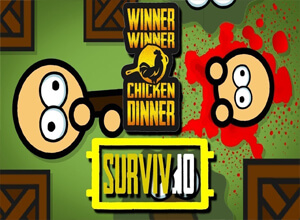 Surviv.io best guns can be categorized based on their ammunition. There are four different shades to identify the ammunition in this gameplay. Namely, you have the yellow, red, blue and green ones.
Surviv.io Best Guns: Weapons To The Rescue!
Surviv.io best guns are designed to ensure maximum damage. The guns will help you destroy enemies without any hassles or tussles. Without the right mix of weapons, moving forward in Surviv.io will be a difficult task. This is why Nick and Justin present to you a range of guns. The game features everything from machine guns to simple pistols. Every player is allowed to hold two pistols of the same kind. However, at a particular point in time, you can have only two different types of weapons in your backpack. And, you can have 3 different types of grenades with you.
Surviv.io Weapon List
Pistols (M9, G18C, M93R, OT-38, Desert Eagle, Peacemaker, Flare gun)
SMGs (MP5, UMP9, MAC-10, Vector)
Shotguns (MP220, M870, Saiga-12, SPAS-12)
Assault rifles (AK-47, M416, SCAR-H, FAMAS, M4A1-S)
Sniper rifles (Mosin-Nagant, SV-98, AWM-S)
LMGs (M249, DP-28, QBB-97)
DMRs (M39 EMR, MK 12 SPR, M1 Garand)
Understanding The Surviv.io Best Guns
Surviv.io all guns in the game are given color codes. You have four different color codes to identify the guns. To begin with, you have the green colored guns. These guns can carry 5.56 mm ammunition. This ammunition works well with assault rifles and bullpup rifles. Of course, you can use these bullets with special-purpose rifles too. Some heavy LMG riffles in Surviv.io use this ammunition. The biggest ammunition in this game would be 12 mm. These are used only with shotguns.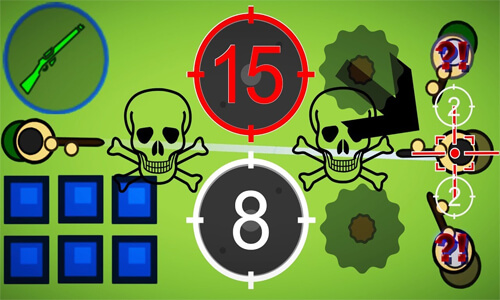 Next, you have the 9mm ammunition. Well, these ammunitions are yellow in color. The yellow shaded ones are considered the weakest in the list. They are used only with SMGs and pistols in Surviv.io. Finally, you have the blue shaded ammunitions. These are 7.62 mm by size. They are used with assault rifles. Of course, the 7.62 mm ammunition works great with the combat rifle, pistol, snipers, and the LMG.
A Golden rule: All players are allowed to carry only two weapons at a particular instance. The color codes are important throughout the game. They don't change. To increase your odds of winning, try to remember the color codes as much as possible.
The Other Surviv.io Weapons
The list of weapons in this game doesn't stop with the Surviv.io best guns. You have so many other weapons to choose from. For example, you have the M9, MP5, and Glock 18 C. These are powerful pistols that are unique to this gameplay.
Nevertheless, all your gameplay in Surviv.io begins with the fists. You will have fistfights that must be won for you to proceed. As you get into deeper levels and difficult arenas, you will have access to the more powerful and dangerous Surviv.io best guns.