The Surviv.io Alternatives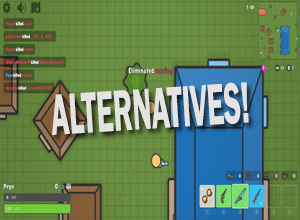 In the past few years, many Surviv.io alternatives have surfaced. Famous alternatives include PlayerUnknown's Battlegrounds, Fortnite, ZombsRoyale.io, and Bruh.io.
Surviv.io Alternatives
If you search for Surviv.io alternatives, you are bound to come across names like PlayerUnknown's Battlegrounds and Fortnite. However, do you know that the list of alternatives goes beyond these traditional options? In the past few years, Battle Royales have become extremely famous. These are trendy games that can keep you engaged for hours. Just like many hero shooting games, the rush for PUBG and Fortnite is unexplainable. Browser-based Battle Royale games don't need powerful machines or a console. When compared to the 3D counterparts, these games are easier to load and play. With this being said, here are two famous Surviv.io alternatives for you.
Surviv.io Alternatives – 1
The list of alternatives for Surviv.io begins with ZombsRoyale.io. This game is extremely close to Surviv.io. In fact, the gaming style looks and feels like many other 3D Battle Royale games. The game begins in a lobby. You will be dropped from an airplane with a parachute. You will land in a circle with many enemies. The map of ZombsRoyale.io is extremely big. This gives plays plenty of hiding space. The red circle in ZombsRoyale.io begins to shrink and brings all players to close together. As the circle of death closes, the chances of you dying are high.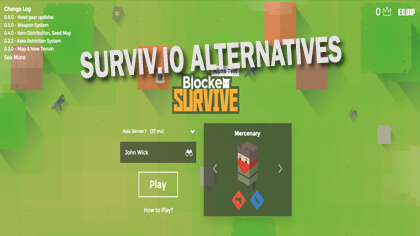 Just like Surviv.io, this game makes use of a circle with strong masculine fists. This avatar can pick guns and spray bullets. The UI of this alternative game is quite clean. For example, you are allowed to click items that are located towards one side of the screen.
Tip for playing ZombsRoyale.io: The weapons in this game are unique and rare. You will find a range of weapons including the red mythic and the white common. The best items to protect you would be the sickle flag and a hammer!
Survivio Alternatives – 2
Another interesting Surviv.io alternative would be bruh.io. This gameplay is extremely close to PUBG. Burh.io gives plays a unique identity. You can be a woman, man, or a Ugandan who is pixelated. The only hard thing about this alternative would be the hard map. The map is extremely difficult to read. And, the environment is loaded with muddy pixels. To prove yourself in this game, you must fight hard. If the game is blocked in the location where you are trying to enter the game, it makes sense to use the Surviv.io proxy game.
Tips: The best way to win this Surviv.io alternative is by fighting with a gun. You have many avatar skins too. Use the shotguns to get rid of everyone in your way.