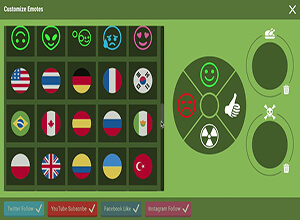 Surviv.io game has a battle royale game theme. In this game, you can win by teaming with your teammates or other players. Therefore, you need to communicate with other players in a short and meaningful way. Many players use Surviv.io emotes to provide this communication.
What are Surviv.io Emotes?
The motive behind playing a certain game is getting to enjoy it the later. With that, Surviv.io emotes come with some of the most conspicuous and interesting emotes that users or you as a player can use. However, it is very important for you to be aware of the fact that there are two main types of emotes that you can access during your gameplay. The first one is known as the regular and the other one is the team ping emotes. Regular emotes normally allow you to choose an emoji that can be used in various slots even more than once. On the other hand, the team ping, on the other hand, allows you to enjoy gaming where you and the other teammates may use various emojis just to have a customized game. That is the best thing about Surviv.io emotes.
Importance of Using Default Emotes
The good thing about Surviv.io emotes is the fact that you can always customize your emotes. That means your emotes will represent various stages of gaming. The various levels where emotes can be used include when you have been defeated and you defeat your rival. It is very important, therefore to have a look at the benefits of using Surviv.io emote emoji.
Firstly, the emoji present at the Surviv.io games is that they are very important when expressing motions. In gaming, emotions such as being happy can be shown by the green round shaped face. This is a default emoji that does not require you to unlock each and every time. The importance of such an emoji in gaming is that you are able to express emotions every time you win or when you lose in a game. Surviv.io skins teaches you all the accessories in the game.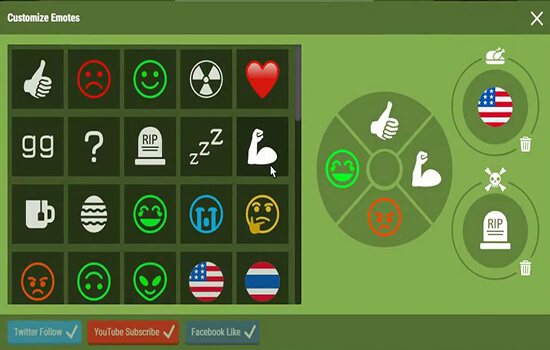 The various emoji in Surviv.io emotes are also very crucial as enhance team building. You should always remember that there are team ping emotes. They come in various types and they can be accessed by holding C on your keyboard and then right-clicking on the icon or the interface. You must however be aware of the fact that they don't work when you are playing solo gaming. So, as long as you want to enjoy gaming more, there is a need to utilize the various emotes. That will make Surviv.io gaming worth the purchase. That is the best side of Surviv.io emotes.
Surviv.io Emotes
Default Emotes
Happy
Sad
Thumbs Up
Surviv Symbol
Heart
Team Ping Emotes
Ammo
Consumables
Warning Call
Gift Signal
Congregation Signal
Logo Emotes
Surviv Logo
Egg Logo
Swine Logo
Hydra Logo
Storm Logo
Conch Logo
Meteor Logo
Crossing Logo
Chrysanthemum Logo
Caduceus Logo
Unlockable Emotes
Demon Face
Monocle
Sunglasses
Headshot
Potato
Leek
Eggplant
Bread
Chick
Pineapple
Coconut
Crab
Dolphin
Fish
Campfire
Longhorn
Ice Cream
Cupcake
Donut