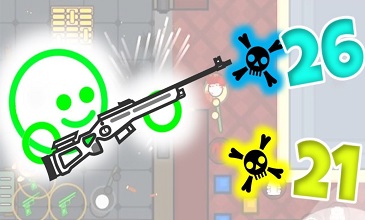 The type of Surviv.io weapons with the strongest shooting damage in the game are Sniper Rifles. Many players want to play with this weapon, but it is very difficult to find this weapon on the map. In order to use Surviv.io Sniper Rifles, you must be able to use the zoom feature practically and quickly.
Surviv.io is a fantastic online 2d Royale Battle game, which is famous around the world. It has a base of 100 million players. This online survival game has been packed with intense and interesting features. Surviv.io game offers a quick game without wasting your time. There are no lobbies or long waits for the game.
Surviv.io Sniper Rifles
Players are given a wide variety of options for choosing weapons. There are multiple rifles available in the game that offers high range, high damage, high precision but a low rate of fire and high recoil. Presently, the Surviv.io game offers six Sniper Rifles in the game. These six categories of Surviv.io Sniper Rifles are Mosin-Nagant, SV98, AWM-S, Model 94, Scout Elite, and BLR 81. The feature of many sniper rifles is that they have 8x or 15x zoom.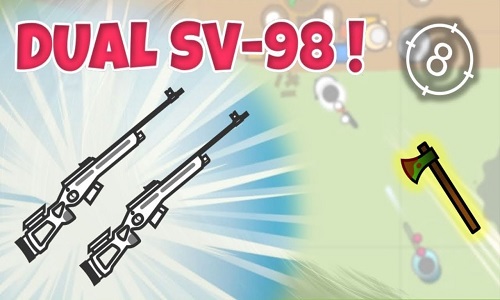 The details are given hereunder:
Mosin-Nagant: This is a Sniper Rifle that deals with a high range of damage per shot. This rifle has the slowest rate of fire per 0.5 bullets. The ammo type of Mosin-Nagant is 7.62 mm.
SV98: This Sniper Rifle is described as the Mosin-2. This was added to the rifles section and load update. per rifle that deals with a high range of damage per shot. The ammo type of SV98 is 7.62 mm.
AWM-S: This is the most powerful and rarest bolt-action rifle. It gives massive damage per single shot. This rifle has a slow bullet velocity. The ammo type of AWM-S is .308 Subsonic.
Model-94: This is a lever-action rifle that is usually made available on the desert map. This weapon has a lower weapon reload time and low damage. The ammo type of Model-94 is .45 ACP.
Scout Elite: This is a lightweight Sniper-rifle that has below-average bullet damage per single shot. The ammo type of Scout Elite is 5.56 mm.
BLR-81: This is a highly powerful Surviv.io Sniper Rifle that gives higher damage per shot. The ammo type of BLR-81 is 7.62 mm.
Sniper rifles are powerful weapons that help you in damaging your opponents highly with great precision. These Surviv.io Sniper Rifles have a low fire rate.
Key Features of the Game:
Surviv.io game has random map generation. It means that every time you start the game, it will give you a unique experience. It does not bore you with the same maps and roads.
There are no static locations in the game that keeps you locked.
There are various modes of the Surviv.io game. You can choose the mode to play in a Solo mode or PVP (Player-vs.-Player) mode.
Surviv.io game offers a wide variety of weapons, armaments, and other ammunition available.
Surviv.io game is available on mobile as well as a web browser. You can choose to play the game on any of your devices.
Mosin-Nagant and BLR-81 are the best Surviv.io Sniper Rifles. Players can use these Sniper Rifles for damaging opponents in a measured manner. You can make the best defense against sniper weapons with Surviv.io SMG weapons.